Remodeling a bathroom, laundry room, or mudroom is an exciting task. But before jumping into to choosing the latest tile or fixtures, there are less exciting things to consider to make sure your project turns out the way you want. There are countless options from which to choose but it all depends on a number of things like size, location, and the age of your family. The following are a few suggestions you can use in every bathroom in your home…
The Master Bathroom
Master bathrooms are often an extension of a home's master bedroom; they're typically located within or adjacent to the master bedroom. For this reason, some design decisions about your master bathroom may be simplified. It is the place you start and end your day. When you start this remodel, the first thing to consider is tub or shower. You may want both, a whirlpool tub to soak in and a shower for the morning rush. But you may not have space and the tub/shower combination can be an eyesore. Problem solved!! The modern solution is the walk-in shower with a rain head and steaming functionality. It takes up less space and makes it easy to hop in and out quickly. Take a quick morning shower when needed or when you have time take a relaxing steamy rain-shower.

Guest Bathrooms
The guest bathroom design often takes second priority over the master suite. However, that doesn't mean that you should neglect this space entirely. With just a few, simple tweaks you can create a space that both you and your guests will love. Usually, the guest bathroom is used more by a member of your home than by visitors. But you should think about who is your typical guest and design this room accordingly. Your oldest and youngest guest, as well as those with limited mobility, might appreciate subtle safety elements. Low threshold shower bases, slip-resistant floors, walk-in showers make for easy entry and exit. A shower bench and grab bars help with fall risk. Install a simple glass shower enclosure which is easy on maintenance. No more grimy glass door tracks or dingy shower curtains. And for tile choices, use dark grout or even solid surface panels which do away with grout lines altogether.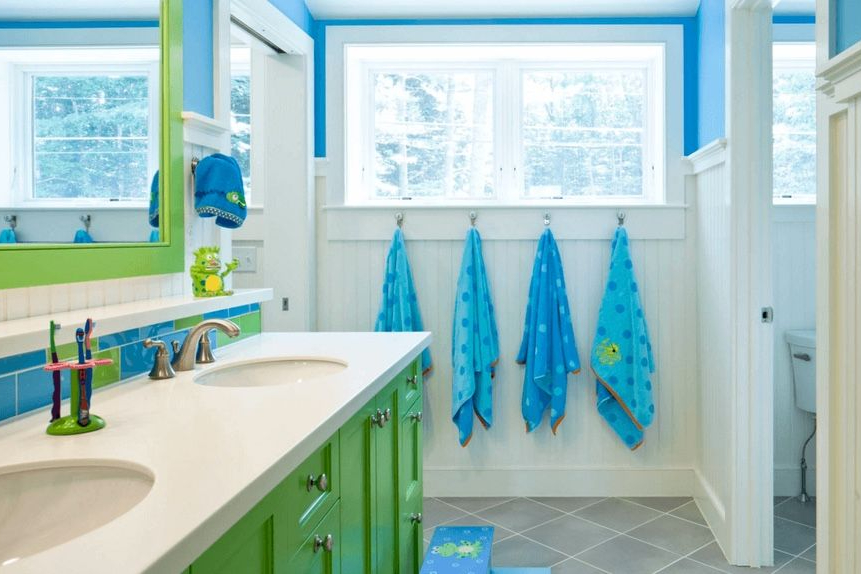 Kids Bathrooms
The main things to remember when remodeling a kids bathroom are that they grow up very fast, and they are messy and a little clumsy. So their needs change quickly. If you have more than one child put in double vanities so two can get ready for school at the same time. It will cut down on turmoil in the morning. If you have little tykes go with a regular size vanity and incorporate a pull-out step into the base of the vanity. Another new product, a glass-enclosed tub, is a great idea for a kids bath. Keep all the splashing fun away from the rest of the bathroom.
Hall Bathrooms
Sometimes this room is very small and can only be a half bath. These rooms are tight and rarely is there room for a shower. But there are new products on the market that can make it possible to fit a corner shower in a tight corner. If you use a pedestal sink or floating basin sink that can make a small bathroom look bigger by creating the illusion of increased space. These new design styles make it possible for fitting more into a smaller space.
Laundry Rooms / Mud Rooms
Do you have a pet? The Laundry room/ Mud room is the newest place for a bathroom. Many folks are including dog showers in their plans for a bathroom remodeling. These showers are slightly raised, to make washing and rinsing a dog of almost any size comfortable for the owner, and include faucets (or shower heads), towel rods, and more. They can also be used for other purposes, such as rinsing off outdoor gear, and mud-soaked sports uniforms. The popularity of these washing/bathing stations in the mud room is growing.
Contact Us (513) 769-5044 for a Consultation!
—
About Business Concepts Remodeling
Building Concepts specializes in custom remodeling projects across the Greater Cincinnati Area. Our comprehensive residential and commercial experience has built a reliable reputation you can trust. Everyday we work to build trust through communication and attention to detail. We strive to enhance the lives of our clients by providing high quality solutions with hands on service. Throughout the remodeling project, minimal disruption to your home or office is our highest priority.
> Learn More