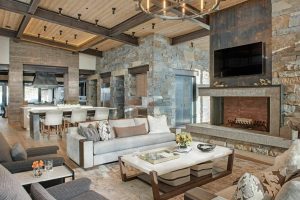 Rustic interiors derive much of their inspiration from the simplicity and romance of past times, with a pointed desire to recall some of the charm and uniqueness that dominated interior spaces before technology took over. One-of-a-kind findings and repurposed objects find their place in the rustic chick look, with natural materials such as raw, stripped, or blemished wood, stone, and metal taking center stage in the way of furnishings. Rustic Chic has become synonymous with an eye-catching style of home décor. WE would like to show you how to create rustic chic interiors that live up to their name and surpass expectations. If you take the tips in this article into account while you work up your design, we guarantee you'll become a modern country master.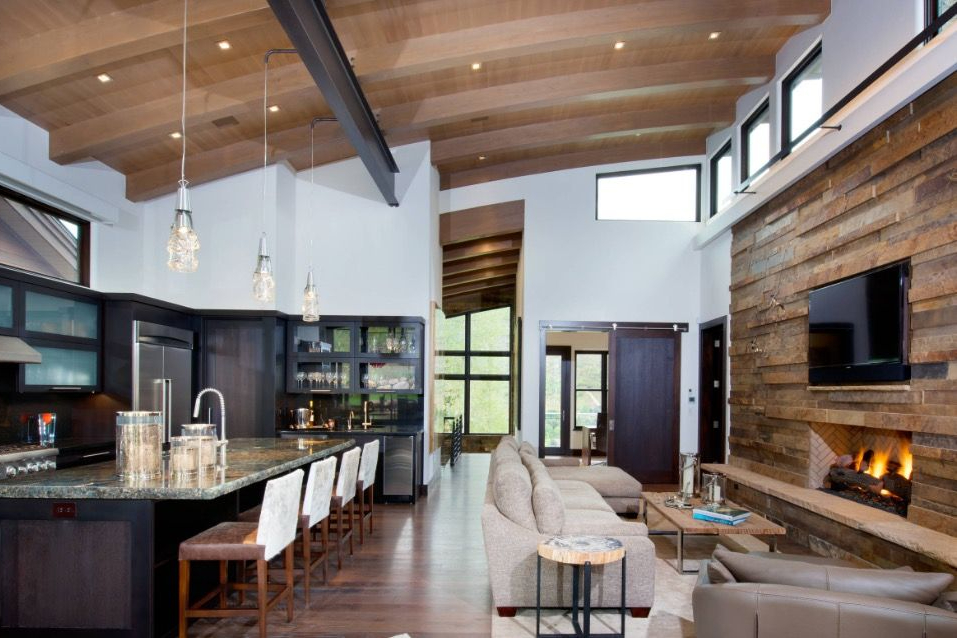 Choose Modern Furniture
It should be obvious from the name that rustic chic is about creating contrast. In these spaces, you need to offset more traditional, country pieces with some equally current selections. Choose pieces that would make your grandmother role her eyes. Opt for either sleek, straight lines or eye-catching, artistic curves and consider using metals like stainless and chrome to pop against natural woods. When it comes time for placement, however, go back to fundamentals. Make sure your modernist picks are arranged into cozy seating areas that facilitate conversation and that the function of each room is perfectly clear.
Add in Rustic Accessories
When perusing decoration ideas, remember that one of the most attractive qualities of rustic chic decor is the ability to experiment with many different patterns, textures, and era influences. A studious brown leather sofa can add an anchoring solidity to delicate French prints and carefully curated centerpieces, while a simple woven rug lends a breezy, lived-in feel. Don't be afraid to mix up your fabric designs, as the more eclectic your throw pillow and textile range the better! Sturdy wooden trays make ideal catchalls to display your personal treasures, and double as attractive centerpieces to build the character of a room. The most important aspect of any rustic space is its charm. No matter how modern you want your space to look, include at least a few elements that are undeniably big, bold and country. Accessories are the best place to do this, Use wall art, lighting or even a few simple décor items you can spread throughout the space.
Lean on Neutral Colors and Natural Materials
The color scheme for rustic chic living room ideas are generally either white or gray, tan or brown and it is accented usually with soft greens and browns to tie in the rustic look of the wood centerpieces. These ideas can appeal to most women, but they are also designed to provide a comfortable feel for the men of the house, as well. It shouldn't come as a surprise that rustic spaces tend to revolve around natural materials. In some cases, they literally allow you to bring the outdoors into your home and, in others, they can help conjure images of more rural territories. In rustic chic designs, they work double duty because these same materials are also undeniably modern. Use wood and stones in anything from beams across the ceiling to hardwood flooring and the face of the fireplace. Keep the feeling of the room light and airy. Choose brighter colors such as indigo blue or maroon as your accent color.
Add a Little Coziness With Textiles
You know the drill… rugs, blankets, pillows and duvet covers all count, of course. But try experimenting with textiles in places where you wouldn't normally consider them. For example, add a throw rug in the kitchen or even one in the bathroom. Rustic chic is a little stark, to combat that, infuse an extra layer of warmth into the space. For that, textiles are the perfect vehicle.
Another reason the rustic-chic trend has caught on is that it allows for an easy transformation of older homes into something more modern. Yet it preserves their true heritage and essence, along with the unique architecture of an earlier era. The rustic chic aesthetic is not new. Just look at any wedding magazine and you'll see what we mean. That said, the look has become increasingly popular among interior design fans recently. It's not hard to see why it continues to be a consistent hit. We hope these tips will help create the perfect current-yet-cozy modern aesthetic if you like this rustic chic look.
Interior Remodeling by Building Concepts
We have helped Cincinnati homeowners make their remodeling dreams a reality since 1991. Our experienced craftsmen and personal attention to every project ensures 100% customer satisfaction.
> View Some of Our Work
Contact Us (513) 769-5044 for a Consultation!
—
About Business Concepts Remodeling
Building Concepts specializes in custom remodeling projects across the Greater Cincinnati Area. Our comprehensive residential and commercial experience has built a reliable reputation you can trust. Everyday we work to build trust through communication and attention to detail. We strive to enhance the lives of our clients by providing high quality solutions with hands on service. Throughout the remodeling project, minimal disruption to your home or office is our highest priority.
> Learn More