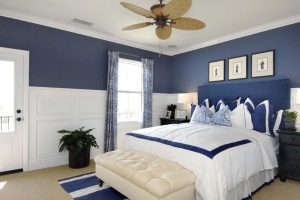 Every host wants their guests to feel comfortable. Staying with friends who have an absolutely killer guest room where you feel pampered and sleep like a baby makes you want to create one of the same kinds of space. What does it take to create a great guest room? Which features will make your guests feel most at home and leave them talking about how much they've enjoyed their stay? We're here to help figure that out. Read a few tips we have put together to help you create the ultimate guest room. To take your guest room to the next level will usually require a professional remodeler.
Temperature Options
More than a few extra blankets the ultimate guest room needs temperature options and an environment that promotes a great night's sleep. Start with high-thread-count, 100 percent cotton sheets then add a thick duvet and pile on lots of fluffy pillows. Most guests would rather spend their night tossing and turning than disturb their hosts by asking to adjust the temperature. That's why it's so important for guests to be able to make their room hotter or colder at will. To do this, focus on the type of bedding you provide. Choose sheets and blankets that create light, breathable layers. Then, keep a couple heavier covers on hand so guests can access them. Aside from textiles, be sure to include a fan for those who like the room to stay cool. Sometimes rooms will need a larger vent to properly heat or cool the room. A professional remodeler can contract with a HVAC professional to make this happen.
Room Lighting
Make your guests feel right at home by having good lighting in your guest room maybe a table lamp or a wall sconce. Ensure that guests don't miss any planned activities (or an early morning flight) by placing a small clock in their room. Having the ability to adjust lighting or the clock to their time zone can make friends feel right at home. We've all experienced a moment where we've tripped over friends' furniture in the dark. Instead of making your guests navigate unfamiliar surroundings after turning the light out, include bedside lighting in your guest room. It is important to make sure that the lighting is proportionate to the area. Consider purchasing lighting that comes with extra features, such as dim-able lamps so guests can choose their own lighting level. Lamps with outlets in their base are also a good choice because they allow guests to easily charge their electronics. You'll need the right electrical outlets in the right spots to make this all happen and a professional contractor can help you make this a reality.
Entertainment
Of Course add a TV and be sure and have a list of the local and cable stations available in your area. But in addition add features that will set your guest room apart from others. Custom cabinetry designed and installed by professional remodelers and audio visual experts will have your guests coming back again and again. Add some Coffee table books and Magazines. If your overnight guests are family or close friends, it's always a nice touch to display photos of happy times spent together; everyone enjoys a trip down memory lane. A small photo book is a nice touch.l Sometimes when you are in unfamiliar territory it is difficult to get a good night's sleep. Rather than have your friends being uneasy about getting up way to early give them something to do until they hear you making coffee in the kitchen.
Bathroom
To really take your guest room to the next level, you can provide attached bathroom. This will create the privacy needed to make your guest feel like they aren't bothering you at all. This is a perfect solution for relatives or friends that will be staying with you multiple days or weeks. A professional remodeler can help you make all the decisions necessary to create an attached bathroom that your guest will love and your wallet can afford. A professional will make sure everything is up to code an that the new plumbing and construction won't negatively effect the other rooms and systems in your home.
Model What a Hotel Room Provides
Leave a basket of fresh towels for your guests to use during their stay.Have an extra set of towel in the guest room for the guest when they arrive. Make your linens do double duty, incorporate them as part of your overall design. Choose similar color and pattern to the other accents in the room. Fill a basket with necessities toothbrushes, extra toilet paper basically anything you've ever had to ask the front desk for at a hotel! Think of what you often use in hotel rooms, like a blow dryer or iron and make sure they are accessible. If you have a closet space, leave some hangers so they can hang clothes. Leave a note in plain sight with your Wi-Fi password. All of this will make them feel comfortable in your guest room.
Interior Remodeling by Building Concepts
We have helped Cincinnati homeowners make their remodeling dreams a reality since 1991. Our experienced craftsmen and personal attention to every project ensures 100% customer satisfaction.
> View Some of Our Work
Contact Us (513) 769-5044 for a Consultation!
—
About Business Concepts Remodeling
Building Concepts specializes in custom remodeling projects across the Greater Cincinnati Area. Our comprehensive residential and commercial experience has built a reliable reputation you can trust. Everyday we work to build trust through communication and attention to detail. We strive to enhance the lives of our clients by providing high quality solutions with hands on service. Throughout the remodeling project, minimal disruption to your home or office is our highest priority.
> Learn More