The social epicenter of your home, this is where some of the most memorable events are made, from family breakfasts to eloquent dinner parties. Choosing a floor plan that provides not only a beautiful design, but a functional layout is infinitely preferable to other plans. Here are some floor plan ideas to help find the one that's most suited for your lifestyle.
Which Layout Should I Choose?
The room design will be the determining factor behind the layout of your kitchen. In most kitchens, there are only five common layouts to choose from- the G, L, U, single wall, and galley style. Any of these will create the triangle kitchen workspace from the stove, refrigerator, and sink.
L-Shaped
While being a practical option for small and large kitchens, it provides the natural triangle with continuous counter space and workstations on the adjacent walls. Giving the chef some privacy for food preparation typically opens up where they can also interact with family or guests. This option is perfect for entertaining.

U-Shaped
A perfect choice for a larger kitchen, the U- shape is composed of cabinetry and fixtures. The adjacent walls provide prep space and an abundance of storage. If there is more than one chef in the kitchen, this would be a great option.
G-Shaped
Also referred to as the peninsula, it is similar to the U-shaped layout. This works best in medium to large spaces. The design surrounds the cook on 3 sides which gives it a more welcoming appeal, while also providing optimal storage.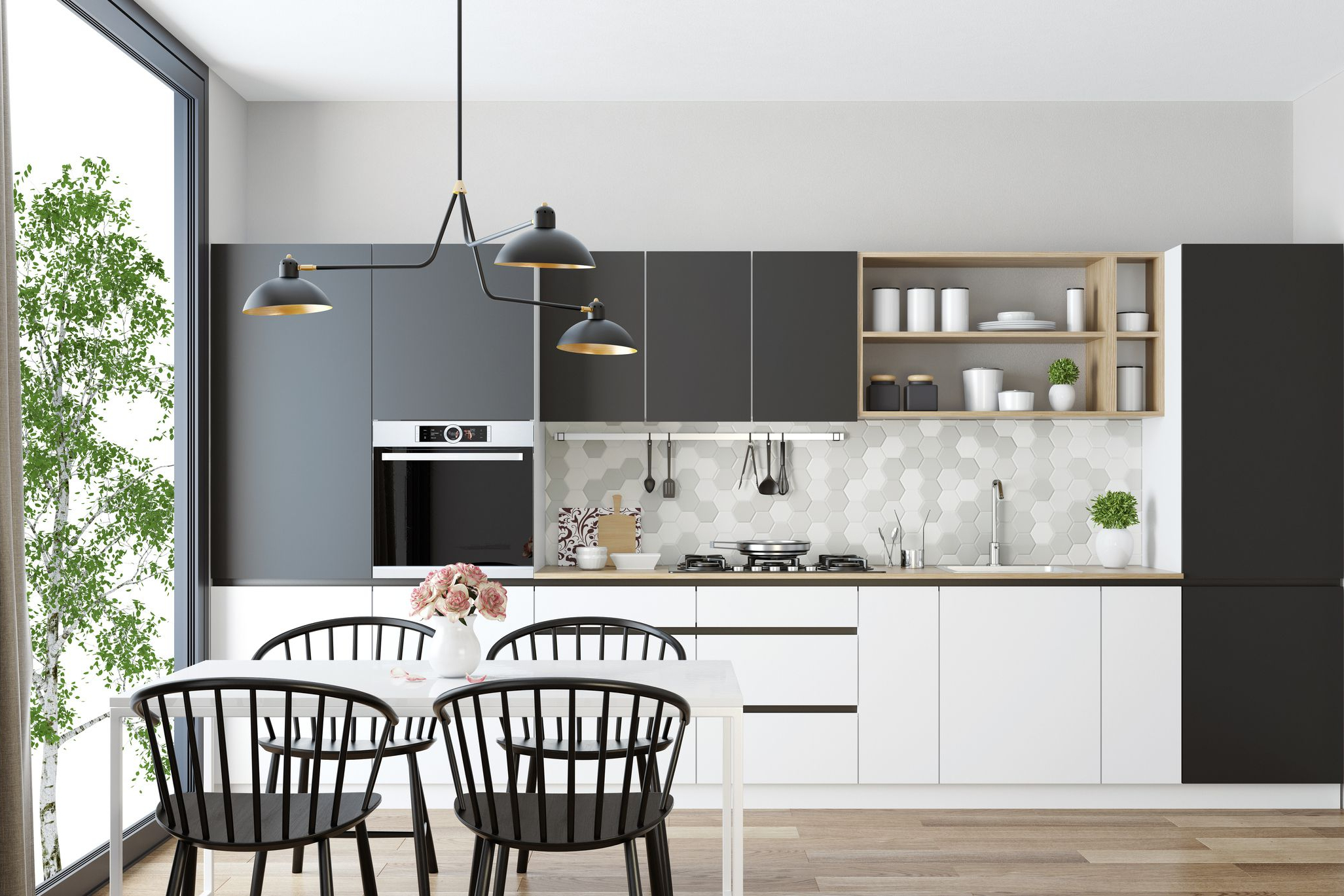 Single Wall Or Straight Kitchen
This is a very basic style and is used mostly in smaller homes, apartments, and lofts. This design keeps all appliances and counter spaces lined up on one linear wall in order to conserve floor space and reduce costs.
Galley Or Corridor Kitchen
This style is perfect for the right space, if not designed properly it can be greatly inefficient. With cabinets facing each other, this forms a passage or galley between them. This style is common in many restaurants.
Designing Tips
Careful and thoughtful components are imperative to maximize the kitchen space. Also important are functionality and livability while exploring the kitchen design and choosing appliances.
Here are some things to consider when choosing the layout:
Traffic – Make sure you have enough room for at least 2 people to fully function in the kitchen without issues of bumping into one another. Make sure there won't be anything obstructing the oven and refrigerator doors.
Comfortable Distance – While keeping the sink, fridge, and stove in close proximity, allowing at least 120cm will let you open all doors and drawers without difficulty. If you are planning on having wire baskets as an accessory, be sure to leave filler space between the last cabinet and wall.
Kitchen Island Distance – Your kitchen island will serve as a workspace to prepare meals. Make sure that the island isn't so close that it obstructs things like your oven door or is too far away and non-functional as a prep station.
Counterspace – Include a prep sink, so the countertop surface isn't broken up by cooktop appliances. This will maximize your counter space and prep areas.
Common Kitchen Floor Plan Mistakes To Avoid
Putting the sink in first
Placing the sink next to a wall; this will interrupt your flow
Install your dishwasher or oven in the corner of the kitchen; this may prevent you from opening adjacent doors
How You May Mess With Workflow If You Aren't Careful
Mismeasure counter height or waste any valuable counter space
Underestimate electrical outlets, neglect plumbing, proper ventilation or heating
Forget to properly dispose of recycling or debris
Communication Pitfalls
Lack of communication with the builders, not asking for assistance from the experts
Disregard creating a clear plan in writing that lays out the pricing, schedule and commitments
Contact Us (513) 769-5044 for a Consultation!
About Business Concepts Remodeling
Building Concepts specializes in custom remodeling projects across the Greater Cincinnati Area. Our comprehensive residential and commercial experience has built a reliable reputation you can trust. Every day, we work to build trust through communication and attention to detail. We strive to enhance the lives of our clients by providing high quality solutions with hands on service. Throughout the remodeling project, minimal disruption to your home or office is our highest priority.
> Learn More