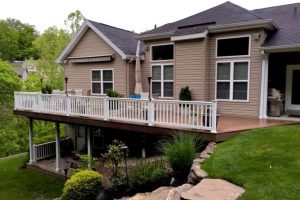 It's great to spend more time outside no matter what season. It's a great place to entertain family and friends.  You can watch the kids play while the dogs run around, making a fire and roast some marshmallows. Having your own deck with cozy seating and a gas fire pit could even make it better! Before you start inviting your friends over for some roasted hot dogs and s'mores on your brand new deck, here are a few important things you should consider…
What Are Your Plans For Your Deck?
A new deck will not only make your backyard look better but it also makes it more functional. When planning your deck, the first thing you should take into consideration is what you plan to do with your deck. Thinking about built in seating? Maybe an outdoor kitchen? How many people do you think will be spending time in the space regularly? What about a hot tub to enjoy when the temperatures drop late into the night? If you are not sure of what you want right now, it is better to plan ahead for any fun features you may add down the road. Now is the time to invest your time and money into creating a deck that is sure to accommodate you and your family for years to come.
Do You Have the Space To Get What You Want?
When planning how big you want your deck to be, you have to consider how much space you have available. We find it helpful to use wooden stakes and markers to map out how you want your deck space to be built. This will also put into perspective how much room you will have both on and off your deck. You probably don't want a deck that is going to take away the majority of your yard.
Have You Looked Into Local Codes and/or HOA Ordinances?
Legal requirements can sometimes get in the way of getting exactly what you want. It is better to see if your plans are within code before you get started on bringing it life than after. If your neighborhood has a homeowner's association, you will also have to contact them as they sometimes have additional size and aesthetic regulations separate from your local code.
How Will the Outdoor Elements Affect Your Deck?
Once you have determined the logistics of your deck, take the time to consider the elements that it will be exposed to. Will it see a lot of direct sun or is it partially shaded? Are you planning on covering it or leaving it uncovered? What about flooding or excessive moisture due to draining issues and pooling in your yard? These are just a few elements that can take a toll on the longevity of a standard wood deck. Thankfully, there are new products and ways that you can protect your deck from these kinds of things.
Some of Our Deck Work
Contact Us (513) 769-5044 for a Consultation!
—
About Business Concepts Remodeling
Building Concepts specializes in custom remodeling projects across the Greater Cincinnati Area. Our comprehensive residential and commercial experience has built a reliable reputation you can trust. Everyday we work to build trust through communication and attention to detail. We strive to enhance the lives of our clients by providing high quality solutions with hands on service. Throughout the remodeling project, minimal disruption to your home or office is our highest priority.
> Learn More