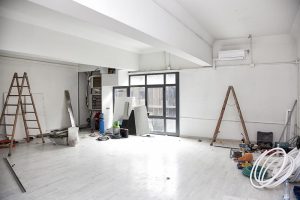 Commercial buildings can be used as large offices, factories, medical centers, or retail. These are places where people work and spend as much or more time there than at home. There are also customers who frequent many of these buildings. Keeping employees and customers excited involves many factors. One of them is to provide a clean, fresh area in which to work or visit. If you are experiencing a pause in business lately, a face-lift for you commercial space could be the answer you need. Commercial construction projects can attract new business to your location.
What Does a Commercial Remodeler Do?
Commercial remodelers interpret how a commercial organization's business model, brand, and priorities will shape the design of the space. They listen to the client to understand their preferences and needs related to function, layout, and décor. This informs the direction of style, shape, and visual impact. Redesigning with help from experienced professionals can completely transform your space. Interior space remodel will make a difference in how your customers perceive your business.
Don't Forget to Improve The Exterior of the Building
If you have siding and it has begun to warp, rot, or become soft, it is time to replace it. To test for rot, insert a screwdriver gently under the boards and joints along gutters and chimneys to see if the material underlying the area is soft and easy to poke into. This indicates significant, irreparable rotting damage. Are your walls cracked, fading, and peeling? Usually this is due to harsh sunlight and/or from frost and thaw cycles. Replacing your siding or painting the expertior of your building can completely change the image of your business. First impressions mean everything to potential customers.
Use Energy Efficient, Green Remodeling Concepts To Save Money
Use the same objectives with a remodel as you would in new construction. Energy efficiency, resource conservation, and a healthy indoor environment. You get there the same way as new construction… planning and design. Consider environmentally friendly landscaping, programmable thermostats, solar panels, and a more energy-efficient roof. A green remodel has a positive impact on customers and it can save you money on energy costs.
During a remodel, every detail, however seemingly small, should accurately reflect your business brand, philosophy, and goals.
Contact Us (513) 769-5044 for a Consultation!
—
About Business Concepts Remodeling
Building Concepts specializes in custom remodeling projects across the Greater Cincinnati Area. Our comprehensive residential and commercial experience has built a reliable reputation you can trust. Everyday we work to build trust through communication and attention to detail. We strive to enhance the lives of our clients by providing high quality solutions with hands on service. Throughout the remodeling project, minimal disruption to your home or office is our highest priority.
> Learn More